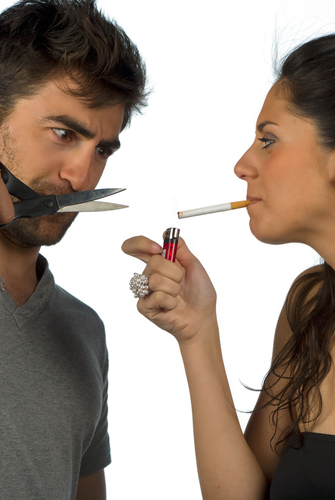 Are you a tobacco user? This is a great time to kick the habit!  The American Cancer Society recently stated that 90 percent of people with oral cancer used at least one form of tobacco.
In addition to cancer, tobacco products increase the risk of gum disease, discolor your teeth, give you bad breath, slow your healing after an oral procedure, and can cause white patches and scar tissue inside the mouth.
The tobacco industry recently introduced a dissolvable tobacco product for smokers to use in establishments that ban smoking. The marketing led consumers to believe that smokeless tobacco and dissolvable tobacco products are less harmful than pipes, cigars, and cigarettes. However, snuff, chewing tobacco, and dissolvable tobacco contain more nicotine than cigarettes, thus making them more addictive.
Nicotine is bad enough, but consider the added chemicals that increase the risk of throat, oral, and esophageal cancers.  These products contain cyanide, arsenic, sand, grit, sugars, and sweeteners that irritate gums, generating a higher risk of gum disease.  Gum disease is the #1 cause of adult tooth loss.
Kicking the habit now will reduce your potential for gum disease. When left untreated, gum disease increases the risk for heart disease, stroke, diabetes, Alzheimer's, pre-term births, low birth-weight babies, and oral cancer.
I'm Dr. Peter Pate of Dentistry in Buckhead, and I encourage you to be aware of oral cancer and give up tobacco products forever.  Improve the quality of your life, and those of your friends and loved ones!  If you need help quitting, or if you need your teeth whitened after you quit, contact my Atlanta dental office at (404)266-9424 to schedule an appointment. I care for patients in Buckhead and the greater Atlanta area.