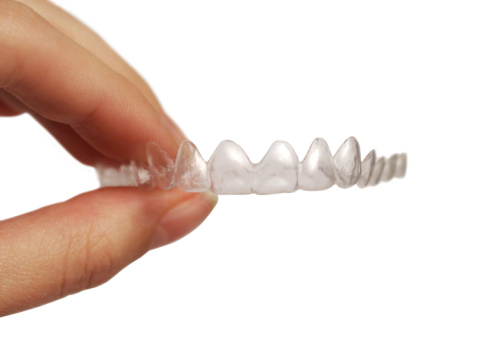 Crooked teeth are embarrassing, but a mouth full of metal may be even more humiliating for professional adults. Fortunately, Dr. Pate offers Invisalign clear braces—a cosmetic alternative to straighten your smile. Take this quiz to see how much you know about the benefits of Invisalign.
1. What color are Invisalign braces?
a. Silver
b. White
c. Clear
2. How long do you wear each set of aligners?
a. One month
b. Two weeks
c. One week
3. When should you remove Invisalign?
a. For eating and cleaning
b. For sleeping
c. Only at the end of treatment
4. Which of the following is associated with Invisalign?
a. Wires
b. Brackets
c. A custom fit
Answers and Explanations
1. C. Invisalign braces are clear, acrylic aligners. They are virtually invisible, so they won't affect your appearance and nobody will know you're undergoing orthodontic treatment.
2. B. You will wear each set of aligners for about two weeks, and then switch to the next set. This step-by-step process will gradually shift your teeth into proper position. The whole treatment takes about nine to 18 months to properly align your teeth, and you will visit Dr. Pate regularly to check your progress.
3. A. Invisalign braces are completely removable. You can take them out when you eat food and clean your teeth. You can also slip them off for special occasions, if necessary. However, your treatment will only be effective if you wear your aligners as directed and as often as possible.
4. C. Dr. Pate will take impressions of your mouth so a special lab can generate your customized aligners. Invisalign fits comfortably over your teeth. You don't have to worry about wires and brackets that poke, cut, and irritate the inside of your mouth.
Invisalign is ideal for image-conscious adults and teens. To beautifully straighten your smile, call Dentistry in Buckhead at (404) 266-9424 to schedule an Invisalign consultation with Dr. Pate.  We welcome patients from Buckhead, Sandy Springs, Lenox, Brookhaven, Atlanta, and surrounding communities.