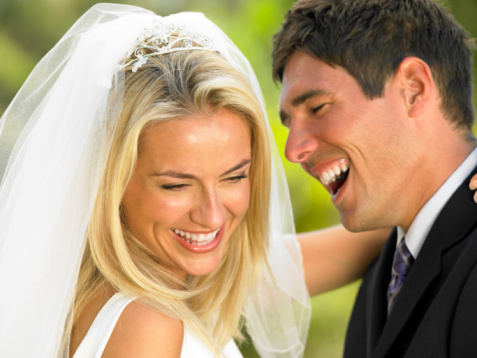 Are you planning your spring or summer wedding? You've probably considered how you want your hair, makeup, dress, and decorations to look—but what about your smile? Dr. Peter Pate's cosmetic services can keep your smile bright through all your wedding photographs and festivities.
Brightening Before the Big Day
According to SHAPE Magazine, many brides wish they had a whiter smile for their wedding. It's your day to shine, and your smile is no exception. If you need whiter teeth, Dr. Pate can remove discolorations with whitening treatments, dental bonding, or porcelain veneers to keep your smile bright. If you need straighter teeth, follow in the footsteps of celebrity Katherine Heigl, who used Invisalign to straighten her teeth before her nuptials. Make sure you plan your cosmetic treatments ahead of time so you can adjust to your new smile.
Smiling During the Ceremony
You'll be surrounded by photographers as you stand at the altar. You're already nervous about tripping down the aisle, so don't let your imperfect smile add to your stresses. A beautiful smile will not only look good in photos and memories, but will also improve your confidence. When it comes to the "I do" moment, be sure to keep your lips hydrated and your breath fresh to enjoy the big kiss.
You should also make sure that your pre-wedding planning doesn't stress you out and cause you to neglect your dental needs. To keep your smile healthy and beautiful before, during, and after your wedding, visit Dr. Pate. Contact Dentistry in Buckhead at (404) 266-9424 to schedule an appointment for your big day.  We welcome patients from Buckhead, Sandy Springs, Lenox, Brookhaven, Atlanta, and surrounding communities.