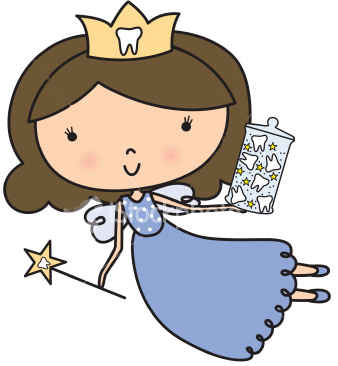 Today is National Tooth Fairy Day! If you have ever known a young child who has lost a tooth, you know how important it is to be visited by this dental nymph. What is the origin of this fantasy figure?
The history of the tooth fairy, as told by some, is actually a rather dark tale.  In the Middle Ages, witches were on the lookout for items that could be used to work their black magic. They thought items held especially close to someone – like hair, clothing, and even teeth – were prime ingredients for potions and spells. Therefore, baby teeth were quickly discarded either by fire or buried out of sight.
In less ominous traditions, parents took their children's teeth and buried them in the garden in order to "grow" strong, healthy adult teeth in their place. This tradition was adapted over time and some people buried the teeth in flower pots inside the home.  Today, of course, the location has moved to the pillow where it is "buried" for the night until a fairy comes to retrieve it, leaving a coin, toy, or treat for the child to discover upon waking
Children in Cambodia toss their lower teeth on the roof and bury their upper teeth in the ground. They hope that the new teeth will grow towards the old teeth and be straight. In Turkey, parents bury their children's teeth in a location that might benefit the child's future, such as a college campus garden or at a hospital.  In Kyrgyzstan, a child will hide his tooth in a piece of bread and give it to an animal with desirable teeth.  In other countries, the baby teeth are regarded as mementos or small treasures. Such is the case in Chile, where the lost tooth is made into a charm and set in precious metal to be used as a necklace or an earring.
Although children eventually lose these "baby" teeth, it is still important to keep them healthy and clean. One of the best ways to instill healthy oral habits for your child is to practice brushing and flossing with them at an early age. Call Dentistry in Buckhead today if you live in the Atlanta area and would like a family dentist who understands parenting firsthand.  As a family man and father, Dr. Peter Pate knows that you want the best for your kids, and he'll help you by providing excellent dental care in an inviting, comforting atmosphere. Call 404-266-9424 and schedule your family's checkups today.