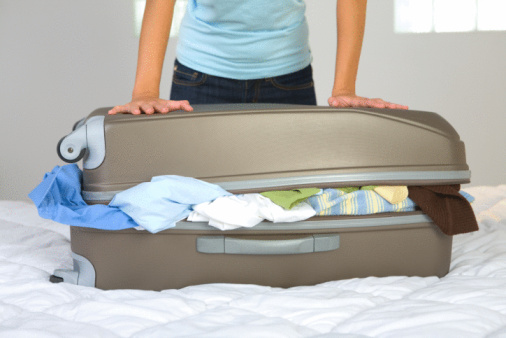 Going on vacation during the winter holiday? When you're packing, don't forget your dental travel kit. While you can find ready-made kits online or at your local pharmacy, it's usually better to make your own, especially if you use a non-standard toothpaste or mouthwash. You should definitely include the following:
Toothbrush:Some travel brushes have hard bristles—make sure you pick one with soft bristles. If you're traveling with others, be sure to label the toothbrushes, or get different-colored brushes to avoid mix-ups.   You can even take your power toothbrush on the road. Sonicare has released the DiamondClean model that conveniently charges from your computer with a USB connection.
Toothpaste: You can find travel-size tubes of most kinds of toothpaste at your grocery store or pharmacy. Ask Dr. Pate for a sample if you don't see yours at the store.
Mouthwash: Find a travel-size container or fill an empty travel bottle with your favorite mouthwash. If you use a prescription mouthwash, fill and label a small travel container. 
Floss: This is the one dental care item most people forget! Try a new variety of floss while you're on vacation. If you use floss picks, find a small plastic baggie and bring more than you think you'll need.
Sugar-free chewing gum: Bring a sugar-free gum sweetened with xylitol; this tooth-friendly sweetener helps prevent cavities. When cavity-causing bacteria interact with xylitol, the bacteria can no longer stick to your teeth. The bacteria also can't digest xylitol the way they digest sugar, and so many of them die. Chew gum with xylitol after meals.
You might also want to take:
Brush-Ups: These are tooth wipes that fit over your finger; use them to remove plaque on the go. You'll also freshen your breath as you wipe! No rinsing is required after using these wipes.
Breath strips: There are several different brands of breath-freshening strips that dissolve in your mouth. Most of them need to be kept away from extreme temperature, so you'll want to keep them in your carry-on luggage.
Whitening kit: Keep your smile bright while you're on vacation! You can order more whitening gel from Dr. Pate for your custom-fitted, at-home whitening trays.
Dr. Pate and the team at Dentistry in Buckhead would like to wish you and your family a healthy and happy holiday season. If you need oral care products before vacation, or if it's time to schedule your next appointment, call us today at (404) 266-9424. You can also visit our website at www.patedds.com.