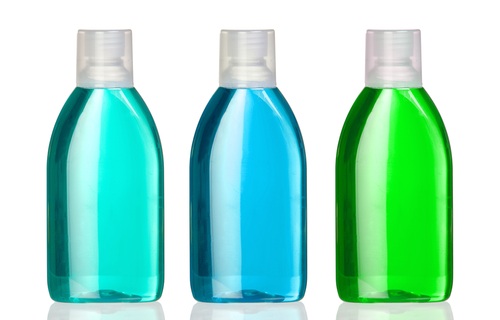 For healthy teeth, you have to eat right and practice daily oral healthcare at home. Teeth should be brushed two times a day, flossed once a day, rinsed after meals, and cleaned professionally at least every six months. Additionally, your entire mouth can benefit from mouthwash. Antiseptic oral rinses and fluoride rinses are two types of beneficial mouthwashes that can promote healthy teeth and gums (and help refresh your breath too!).
Antiseptic mouthwashes, such as Scope and Listerine, decrease plaque and oral bacteria. In conjunction with brushing and flossing, these rinses help remove oral debris, temporarily suppress bad breath, and refresh the mouth with a pleasant taste (flavored versions only). To avoid drying out the tissues of the mouth, rinsing with a non-alcoholic mouthwash is recommended so be sure to check the labels!
Fluoride mouthwashes can also decrease oral bacteria. In addition to acting as an antiseptic, fluoride effectively prevents the growth of cavity-causing dental bacteria and strengthens tooth enamel. ACT, a common over-the-counter fluoride rinse, slows down or even stops the progression of cavities when combined with proper brushing and flossing. For high-risk patients, dentists can provide stronger concentration fluoride supplements or rinses to protect against cavities.
Rinsing with any mouthwash for 30 seconds loosens remaining debris and contributes to good oral health. If you live in the Atlanta area and want healthy teeth for a lifetime, contact me, Dr. Peter Pate at (404)266-9424. I provide preventive, restorative, and cosmetic dentistry to families in Buckhead, Sandy Springs, Brookhaven, Lenox, Atlanta, and surrounding areas.