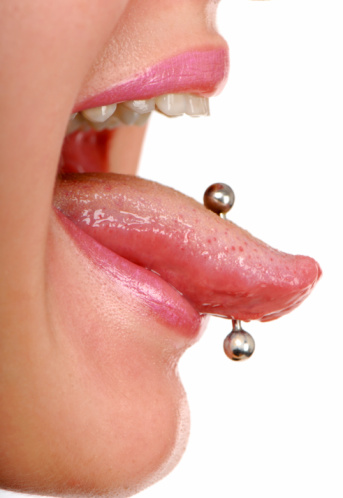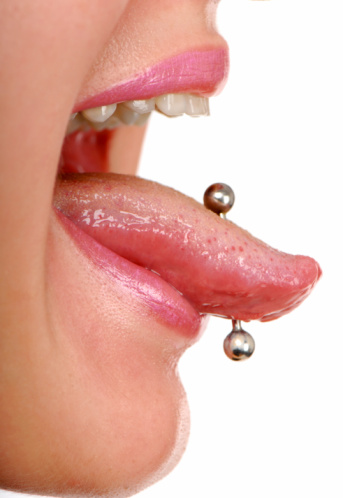 Some people think oral piercings are fashionable, but Dr. Pate views them as potential dental disasters. If you're considering a lip or tongue piercing, take the proper precautions to avoid damaging your teeth, gums, and oral health.
Stay Sterile
More than half of the bacteria in your mouth live on the surface of your tongue. When your tongue is punctured, your oral bacteria can enter your bloodstream, increasing your risk of heart problems and other oral-systemic conditions. Additionally, if not sterilized properly, the piercing needle can carry bacteria and increase your risk of toxic shock syndrome, blood poisoning, hepatitis, and other health problems. Furthermore, research shows that stainless steel studs collect more bacteria than plastic studs. To prevent infection, be sure your piercer is using a clean needle and practices proper oral hygiene to keep your mouth clean.
Healthy Healing
A piercing takes a long time to heal. It's important to take proper care of your mouth during the recovery process to prevent infection and restore the healthy tissues. Immediately following your piercings, your tongue, lips, and gums may swell. Swelling can make it difficult to speak, eat, drink, and swallow properly. Furthermore, excessive inflammation may block your airway. To promote quick recovery, consume plenty of vitamin C, rinse your mouth with an antiseptic, and avoid acidic items that could irritate your mouth. You should also visit Dr. Pate to check that your piercing and oral tissues are healing safely.
Strong Smiles
When you eat, talk, and swallow, your jewelry is going to hit the back of your teeth, which can chip your enamel. If you accidentally bite down on a stud, you could crack your teeth. Furthermore, when the piercing touches your gums, it can irritate and injure your gum tissue. Oral piercings can also create a speech impediment as you become accustomed to the new feeling.
If you choose to have an oral piercing, please ensure that your mouth is healthy prior to doing the deed.  Although Dr. Pate doesn't encourage tongue or lip piercings, he can still help keep you on track with proper oral health and monitoring the healing process.  Contact Dentistry in Buckhead at (404) 266-9424 to request an appointment.  We welcome patients from Buckhead, Sandy Springs, Lenox, Brookhaven, Atlanta, and the nearby areas.