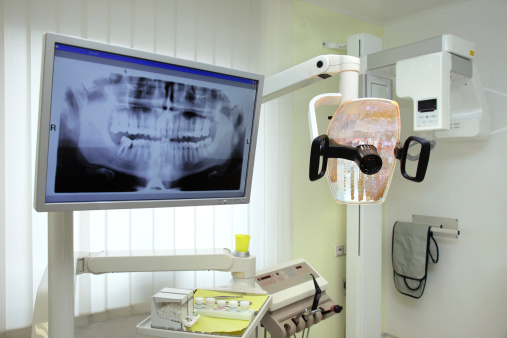 At Dentistry in Buckhead, we understand that you may be confused about your oral health because you can't see what's happening inside your mouth. However, Dr. Pate is determined to help his patients fully understand their oral health. We offer digital x-rays, intraoral cameras, and chairside monitors to help keep you informed, educated, and aware of your dental health and treatment.
What are Digital X-rays?
Dental x-rays are essential in helping Dr. Pate diagnose tooth decay, gum disease, alignment issues, and other dental problems in their early stages. However, many people are concerned about the radiation exposure in traditional x-rays. Instead, we offer digital radiography technology. Digital x-rays produce 90 percent less radiation to help keep our patients and our environment safe and healthy. Additionally, digital x-rays give us instant high quality images of your teeth that can be organized electronically.
What are Intraoral Cameras?
Dr. Pate uses an intraoral camera to provide a "tour" of your mouth and to help walk you through diagnosis and treatment. An intraoral camera is a small wand that takes full-color images of your oral cavity. These images are available immediately for viewing on a TV screen, which means we can spend more time discussing your oral condition and treatment plan. Your digital images can be magnified, rotated, and adjusted so we can thoroughly explain all angles of your mouth.
What are Chairside Monitors?
Chairside monitors are flatscreen TV screens that are placed near the dental chair. Chairside monitors serve two purposes. First, you can choose to watch your favorite television show during your appointment to help relax your body. Additionally, the monitors display your digital images and intraoral photos. You can recline in the dental chair while viewing full-color visuals of your mouth.
A better understanding of your oral health will lead to better care. Our digital technologies keep you informed so you can make the decisions necessary for a healthy smile. To experience digital x-rays, intraoral cameras, or chairside monitors in Atlanta, contact Dentistry in Buckhead at (404) 266-9424 to schedule an appointment.  We welcome patients from Buckhead, Sandy Springs, Lenox, Brookhaven, Atlanta, and surrounding communities.