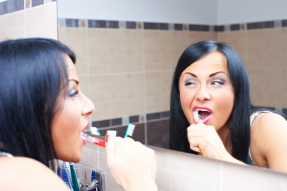 For many people, the first thought that October brings to mind is Halloween and the hordes of candy that will inevitably assault their oral health. However, there is another reason to celebrate October as the American Dental Hygienists' Association (ADHA) marks National Dental Hygiene Month. Since most of us have been instructed to care for our teeth since childhood, oral hygiene may not seem like a problem. Yet, gum disease still affects over 75% of adults in America, and over 90% of adults under the age of 60 have had at least one cavity in their permanent teeth. To help lower these statistics, at least among our patients and readers, Atlanta dentist Peter A. Pate, outlines the basics of proper oral health care.
Good Dental Hygiene Practices
Brushing
While most of us can say that we brush our teeth every day (we hope!), not everyone knows that there is a right and wrong way to brush your teeth. One of the most common tooth brushing mistakes is brushing too quickly, or not thoroughly enough. Distraction can come easily, especially when you're only using one of your hands. The ADHA recommends brushing your teeth at least twice a day for two minutes a session. Play close attention to where you're brushing, and be sure to address every surface of every tooth that your brush can reach. Brushing to a short, catchy song is a good way to keep track of time during your ritual, and it can help make the routine less tedious. Don't forget to brush your tongue, too.
Flossing
A freshly brushed mouth can sometimes feel totally clean and fool you into believing that flossing is not important that day. Even if there are no obvious pieces of food stuck between your teeth, chances are there is still a good collection of dental plaque hiding in those hard-to-reach spots. Since plaque contains many kinds of oral bacteria, including the kinds that cause tooth decay and gum disease, removing it from between your teeth is as important as removing it from your teeth's surfaces. For best results, floss your teeth at least once a day, preferably before going to sleep.
Attend Your Dental Checkup and Cleaning
Another common mistake is neglecting to attend your regularly scheduled dental checkup and cleaning appointments. The attention you pay your teeth and gums at home is necessary to maintain your oral health, but it is not enough to keep your mouth healthy in the long run. Like your car, regular professional maintenance is required to protect your teeth from constant use. For instance, if you miss a spot of plaque, it will harden (calcify) into tartar within 48 hours, and your toothbrush will no longer suffice to remove it. Dr. Pate and one of our expert dental hygienists will thoroughly remove traces of plaque and tartar, reducing your risk of developing oral health issues.  To learn more about protecting your oral health, contact Dentistry in Buckhead at (404) 266-9424 to schedule a consultation. We proudly serve patients from the Buckhead area, as well as Sandy Springs, Lenox, Brookhaven, and the greater Atlanta area.