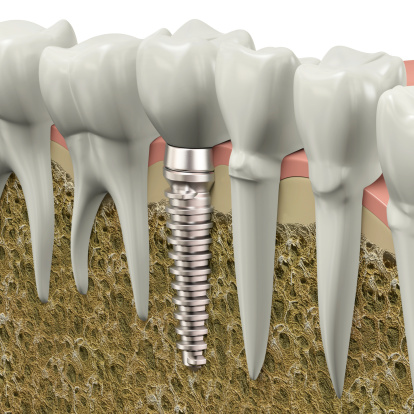 Periodontal disease is the number one cause of adult tooth loss. Missing teeth can impair your appearance and ability to function normally. Fortunately, Dr. Pate offers restoration of dental implants — a comfortable prosthetic to restore your smile.
Benefits of Dental Implants
Comfort: Dental implants are planted into your jaw bone and serve as the root of your missing tooth. As your mouth heals, your bone will grow around the implant post, creating a comfortable and sturdy finish.
Durability: Since dental implants are surgically placed in your mouth, they will stay in place without slipping and sliding. The prosthetic crown attached to your implant is strong enough to withstand everyday wear and tear.
Space: With missing teeth, your adjacent teeth have the potential to shift into the open gap, creating bite misalignments. Dental implants, however, sit in the same spot where your tooth once was, holding proper spacing and alignment.