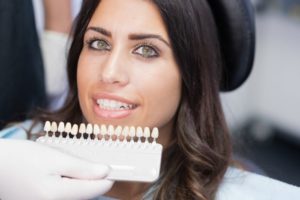 If you have crooked teeth, you may have considered using traditional metal braces to straighten them. If you don't want to change your appearance nor deal with braces for the 18 months to three years of wear that's required, clear aligners like ClearCorrect may sound like a better option. Unfortunately, this option can easily take 6 to 18 months to complete as well, which is not something every patient wants to deal with.
Those seeking immediate results should look no further when porcelain veneers in Buckhead are available. Here are three reasons why they're worth considering.
The Fastest Option for Straighter Teeth
As previously mentioned, it takes braces and ClearCorrect several months and typically years to completely straighten teeth. Wearing fixed orthodontics will force you to make changes to your appearance and habits, including your brushing and flossing technique. You won't be able to eat certain foods as you undergo treatment for very long periods of time. Clear aligners can be removed, but since they need to be worn for 22 hours a day, you won't be able to eat, drink or snack as freely as you may like.
Instead of waiting months and years to achieve a straighter smile, porcelain veneers can make it happen in as little as two weeks. This is often referred to as "instant orthodontics." Once you complete your cosmetic consultation and impressions are taken, the dentist can start the fabrication process. After they are made, you'll come in to have them fitted, effectively covering any gaps or crooked teeth.
It's important to note that veneers are a great solution for individuals with minor misalignment issues. If you have a more severe case, you may want a more involved treatment.
No Discomfort Involved with Veneers
Both braces and clear aligners rely on gentle force to shift natural teeth into a straighter position. Whether you're shifting them through regular appointments at the dentist or independently with clear aligners, you're going to experience some discomfort. For some individuals, braces and clear aligners are completely off the table because they have an allergy to the metal and plastic materials.
Veneers use porcelain, a fully biocompatible material with virtually no risk of triggering an allergic reaction in patients. As long as you're okay with removing a very minimal amount of tooth enamel to place them (which is a painless process), you can cover imperfections in teeth without worry. Additionally, there's no force applied to teeth to place veneers, so you won't have to deal with the discomfort commonly associated with orthodontic devices.
No Retainers
After the braces come off or you finish wearing the last pair of aligners, you're still going to need to wear a retainer. Not only will you need to wear it almost 24/7, but you'll need to keep wearing it even after the dentist determines that your teeth have fully shifted. This is intended to prevent relapses from occurring later in life. Porcelain veneers require no retention devices to keep your smile looking straight and beautiful.
Veneers are the perfect solution for individuals looking to straighten teeth quickly and cover other imperfections in the process without orthodontic tools. Schedule an appointment with a cosmetic dentist in Buckhead to get started today!
About the Author
Dr. Peter A. Pate earned his DDS degree from the University of Tennessee School of Dentistry. Since then, he's pursued many additional hours of continuing education in cosmetic dentistry from numerous institutions, including the Pankey Institute and the Academy of General Dentistry. To learn more about what you can do to fix any crooked teeth, you can contact him through his website.