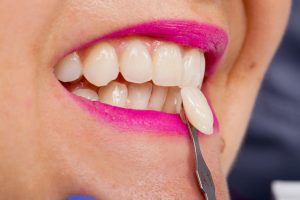 If you're ready to turn the smile of your dreams into reality, porcelain veneers may be the solution for you. You can address several imperfections using one procedure. You don't have to worry about an invasive or painful treatment plan. You can walk out of your dental office with a picture-perfect smile after just 2 appointments. However, you're going to need temporary veneers for a couple of weeks. Although you'll only need them for a short time, they are essential for your treatment plan, and here's why. 
Process of Getting Veneers
After any preparatory procedures, you'll be scheduled for the first phase of your treatment, which involves cleaning and preparing your teeth. A small amount of enamel is removed to allow your veneers to fit your teeth like a glove. While this doesn't harm the health of your teeth, they can be vulnerable to sensitivity, decay, and other issues if they aren't covered by restorations, whether crowns or veneers. Not to mention, your teeth won't be very attractive. Temporary veneers protect your teeth and allow you to "try on" your new smile while waiting for your permanent restorations.
Once your teeth have been prepped, your dentist will take a digital impression of your mouth to get the information necessary to create your veneers. They'll be crafted in a dental lab to meet your exact specifications. It can take the lab about 2 weeks, so your dentist will apply temporary restorations.
What to Expect with Temporary Veneers
Don't panic if your trial veneers aren't what you expected, because they aren't customized to fit your smile. They may be a little thicker than your final restorations. In addition, they don't leave gaps between your teeth, so your dentist will recommend you don't floss to prevent them from popping off.
You may experience sensitivity to hot, cold, or sweet foods and drinks, so you may want to avoid them until your new smile is complete. Your dentist will recommend staying away from hard, sticky, chewy, or crunchy foods, which can damage the veneers. Limit how often you have dark-colored foods and drinks because they can stain your short-term restorations and natural teeth.
Enjoy a Stunning Smile that Lasts
In no time at all, you'll return to your dental office to have the temporary veneers removed and your permanent ones cemented to your teeth. You'll walk out of your appointment with a flawless smile that looks natural. Although it may take a few days to adjust to your veneers, you'll soon forget they aren't part of your real teeth.
Veneers are a big commitment. Trial veneers protect your investment to achieve the confident, stunning smile you desire. It's a small price to pay for a dazzling smile that can last for a decade or more.
About Dr. Peter A. Pate
Dr. Pate earned his dental degree from the University of Tennessee School of Dentistry and regularly pursues higher education in advanced services, like cosmetic dentistry. If you're interested in porcelain veneers, contact our office today to schedule a consultation.