Happy Whole Grains Month! How much do you know about whole grains? It may seem trivial, whole grain versus processed grain, but whole grains have a wide range of benefits over their processed cousins. Test your knowledge with this Whole Grains Quiz:
Q: Which of these is not part of a whole grain:
Bran
Shell
Germ
Endosperm
None of the above
A:  Shell – A whole grain consists of bran, germ, and endosperm.
Q: Which of these is a whole grain?
Amaranth
Barley
Wheat
Wild Rice
All of the above
A:  All of the above – For a list of whole grains, click here.
Q: Whole grains help reduce the risk for:
Heart Disease
Stroke
Type 2 Diabetes
Gum Disease
All of the above
A:  All of the above – Whole grains reduce the risk of heart disease, stroke, type 2 diabetes, and obesity. They may also reduce risk for gum disease, asthma, colorectal cancer, high blood pressure, and tooth loss.
Q: How many servings of whole grains do you need each day?
A:  3-5 servings per day
Q: How can you tell if a food is made with whole grains instead of processed grains?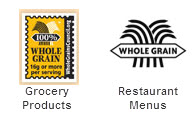 Look for the Whole Grains Council stamp
Ask the butcher
Ask the cashier
Ask the stocker
Ask your spouse
A: Look for the Whole Grains Council stamp. Every product bearing the whole grains stamp contains at least half a serving of whole grains.
Q: How much money could you win in the Whole Grains Council September Sweepstakes?
$1,000
$2,000
$3,000
$4,000
$5,000
A: $5,000 – Click here in the month of September to enter the sweepstakes.
Q: Is "whole white wheat" a whole grain?
A: Yes: "White wheat" is bleached wheat, which is processed. "Whole white wheat" is actually a white variety of wheat that is used whole.
Be sure to incorporate whole grains into your daily diet to reap some of the bountiful rewards these types of grains offer. Here at Dentistry in Buckhead, Dr. Pate cares about your whole health, and not just your dental health. Call the office today at 404-266-9424 and reserve your appointment with Dr. Pate and his team.