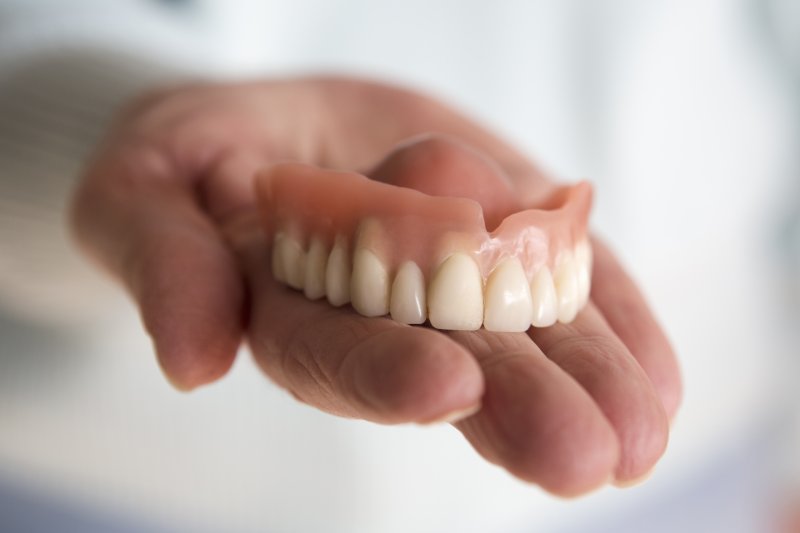 Now that you're wearing your dentures, you can finally celebrate having your fully restored smile again! While they're important for providing structure to your missing teeth and improving your dental health, you also want to be sure they remain as dazzling as the day you first got them. Read on to learn a couple major ways to whiten dentures and what you should avoid when keeping them clean.
Whitening Your Dentures at Home
One of the most important methods for keeping your dentures bright and shiny is to simply clean them twice a day. Just like with your natural teeth, brushing your restorations can efficiently remove bacteria and particles. You may even ask your dentist what they recommend is a good non-abrasive dental cleaner for whitening treatment. By soaking your dentures in this solution overnight, you can actively help undo blemishes while you sleep!
Whitening Dentures Professionally
Even if you're cleaning your dentures regularly at home, you can always seek professional whitening from your dentist for extra strength. They can remove stubborn stains and polish your restorations in just a few minutes. A professional cleaning is typically required for your dentures twice a year anyhow, so you can also get a thorough dental checkup along the way.
What to Avoid When Whitening Dentures
A major part of maintaining white and bright dentures is to keep away from certain substances. While your restorations replace your natural teeth, you won't want to use the same products for whitening treatment. A few methods to avoid when preserving their shine include:
Hot water: Though cleaning with hot water usually weakens stains and debris, it can also warp and permanently damage your dentures.
Abrasive cleaning products: Stiff-bristled toothbrushes along with abrasive toothpastes or cleaners can actually scratch the surface of your restorations, ruining their texture and shine.
At-Home teeth whitening solutions: Some of these products contain bleach or other chemicals that can ruin the surface and structure of your dentures.
With the right practices, whitening your replacement teeth can be fairly simple. By keeping a proper dental hygiene, and with your dentist's help, you can ensure your new smile will stay clean and bright!
About the Author
Dr. Peter A. Pate earned his dental doctorate at the University of Tennessee School of Dentistry. He's completed numerous continuing education courses to remain up-to-date with the latest dental techniques and technology. He's an active member of several organizations including the Georgia and American Dental Associations, and the Northern District Dental Society. With his expert team, he provides multiple state-of-the-art treatments, such as dentures. If you want to know how you can keep your dentures bright, visit his website or call 404-266-9424.