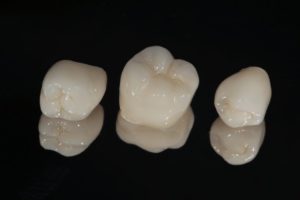 If one of your teeth is severely broken, decayed, or even just cosmetically imperfect, you may have chosen to receive a dental crown in Buckhead to restore the tooth back to normal. Getting a crown usually takes two appointments: one to reshape the tooth and take impressions, and another to place the crown once it's done being crafted in a dental lab. In the meantime, your dentist will place a temporary crown, which is not as sturdy as your permanent restoration. As a result, it may fall out before your next appointment. What should you do in this situation? Keep reading below to find out.
What Is a Temporary Crown?
A temporary crown is a type of restoration, usually made of a plastic-like material, that is only meant to be worn for two or three weeks while your permanent crown is being fabricated. Its purpose is to protect a tooth that has been prepared to receive a dental crown from painful sensitivity.
Temporary crowns can be shaped to match your tooth closely, but not nearly as closely as your permanent restoration. An adhesive is used to keep it in place, but again, this adhesive is not as strong as the one used to bone your permanent crown to your tooth. When the final crown is ready, you'll return to your dentist's office. The temporary will be removed and the permanent crown will be securely fixed in your mouth.
Of course, that's assuming everything goes right with your crown. But that's not always the case.
What to Do When Your Temporary Crown Falls Out
Temporaries can fall out fairly easily, especially if they're affixed to molars or premolars since they're subjected to more chewing forces than your front teeth. If yours comes loose or falls out entirely and you still have some time before your next appointment, don't panic. Follow these steps to keep your mouth healthy:
Remove the crown or broken piece of it.
Rinse your mouth to remove any broken shards.
Run your tongue over the tooth's edges. If there are jagged parts, you can apply dental wax or sugar-free chewing gum to avoid cutting your tongue.
Call your dentist and describe your situation in detail. Follow their instructions to a tee.
If your dentist places another temporary, be careful with it until you receive your permanent crown. Don't chew directly with it and avoid flossing around it to prevent it from loosening again.
In most cases, it's not a huge deal if a temporary crown falls out before your second appointment to get a permanent one. After all, this restoration is only made to last a couple of weeks anyway. Just be sure to follow the tips listed above and contact your dentist right away to find out what the best course of action is!
About the Author
Dr. Peter Pate is a dentist in Buckhead, GA who graduated from the University of Tennessee School of Dentistry in 1982. He has achieved Mastership status with the Academy of General Dentistry, an honor that only about 1% of dental professionals ever receive. This demonstrates his commitment to quality care and continuing education. One of his many areas of expertise is creating dental restorations such as crowns. If you had a temporary crown come off, don't hesitate to contact Dr. Pate's office at 404-266-9424.