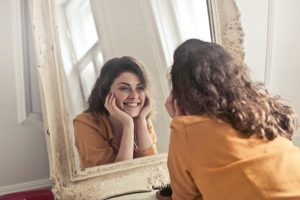 If you have replaced your missing teeth with dental implants, you've invested a lot of time and money. As the most reliable method of treating tooth loss, dental implants can last for decades. You don't want anything affecting the appearance of your new smile over the years, like stains. Although dental implants don't discolor like natural teeth, here are a few things you should know to keep your pearly whites looking their brightest. 
Do Dental Implants Stain?
Your enamel is porous, which means it is vulnerable to stains caused by darkly pigmented foods and drinks, poor oral hygiene, or smoking. Not to mention, enamel erodes over time, causing more of the yellowish dentin to show through.
Dental implants aren't porous, so they aren't susceptible to the dark pigmentation in foods and beverages. Since they don't contain any dentin, you don't have to worry about your restorations showing signs of aging, like your enamel. However, your dental implants can start to show their age if you don't take the right precautions.
Although your dental implants won't discolor, any remaining natural teeth are still vulnerable to stains. If you aren't careful, your enamel can darken. As a result, your restorations may no longer blend in as well with your teeth.
Enjoy Long-Lasting Results
Dental implants have over a 95% success rate. They are proven to last for decades with the right care. You can ensure your new smile looks its best and lasts for years by keeping a few tips in mind:
Commit to Your Oral Hygiene: A solid oral hygiene routine at home will keep your mouth healthy and protect your smile from stains. Use non-abrasive dental products to brush, floss, and use a daily mouthrinse to safeguard your investment.
Watch What You Eat: Eat a healthy diet that's limited in sugars and dark foods or drinks. If you can't skip your morning cup of coffee, drink it through a straw to limit its contact with your teeth.
Visit Your Dentist: Maintain semi-annual appointments with your dentist for a cleaning and checkup.
Don't Smoke: Smoking increases your risk of dental implant failure, and tar and nicotine can stain your teeth.
Break Bad Habits: Stop any habits that can damage your restorations and natural teeth, like chewing on inedible objects.
Protect Your Smile: If you play sports, wear an athletic mouthguard to protect your investment. If you have a habit of grinding and clenching your teeth, ask your dentist for a nightguard.
Your new smile can stay bright and beautiful for a lifetime. If your dazzling results fade, your dentist has the solutions you need to restore your stunning smile.
About Dr. Peter A. Pate
Dr. Pate earned his dental degree from the University of Tennessee School of Dentistry and regularly pursues continuing education to provide advanced services, like dental implants. As a member of the American Dental Association and the Academy of General Dentistry, you can feel confident your smile is in good hands. Contact our office today to request a consultation.