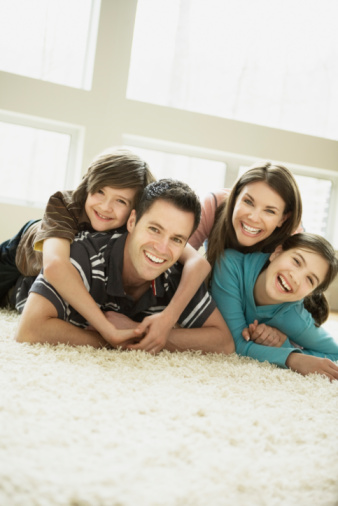 Do you feel like you're always running? Soccer, ballet, PTA, church — the list of commitments goes on and on. Active families can easily miss out on healthy eating opportunities because of their tight schedules. Modern families often forgo a sit-down, home-cooked meal for McDonald's or KFC. Dashboard dining can ruin all the hours you put in at the gym. These poor meal choices are often accompanied by colas, which can subject your teeth to a sugar bath.
You can have a jam-packed schedule and a healthy diet, but you'll have to prepare for success.
At the Grocery Store: When shopping, don't stuff your buggy with pre-packaged sweets and starches like crackers. Instead, hit up the perishable aisles. Yogurt, cheese, and milk come in small, disposable containers, and these dairy foods are packed with protein. They're also good for your teeth, bones, and overall health. Don't miss the fruit and veggie aisle. Produce companies have become wise to the needs of busy families. You can now buy small containers of carrots, apples, and grapes. Small bananas and clementine oranges are fun, kid-sized fruits that come in nature's disposable packaging.
When Unpacking the Groceries: Keep the sweets up high and in the back of the cabinet. Place nutritious snacks on low pantry shelves and in the bottom bins of the refrigerator. As part of putting away your groceries, pack granola and cereals in small sandwich or snack bags. These treats can take the place of Little Debbie snack cakes and Hostess cupcakes. Place a variety of your nutritious grab-bags in a bin, and store it at eye-level for kids.
Good Old H20: Water is best served pure. Don't offer your kids an option to add sugary or even artificially sweetened water bottle packets. To please everyone, keep some water bottles in the pantry at room temperature, and stock some on the bottom shelves of your refrigerator door. If someone in the family just must have flavoring, keep diced fresh fruit available. Adding a few chopped strawberries, a slice of orange, or a sprig of mint to a water bottle is healthier than adding pre-packaged mixes.
Dr. Pate's Active Lifestyle: If you're in search of a family dentist who prioritizes whole health and living well, you're in the right place. In addition to being a dentist, small business owner, husband, and father, Dr. Pate is an Ironman. As such, the doctor completed the grueling Ironman Lake Placid this summer.  This is a triathlon consisting of a 2.4-mile (3.86 km) swim, a 112-mile (180.25 km) bike, and a marathon (42.195-kilometre  or 26.219 mile run) with no breaks. That was nearly 14 hours of workout, start to finish. When it comes to an active lifestyle, Dr. Pate understands! He lives one himself.
Call Dentistry in Buckead at 404-266-9424 to schedule your dental visit with Dr. Peter Pate. Our Atlanta dental office will do our best to take care of your smile.