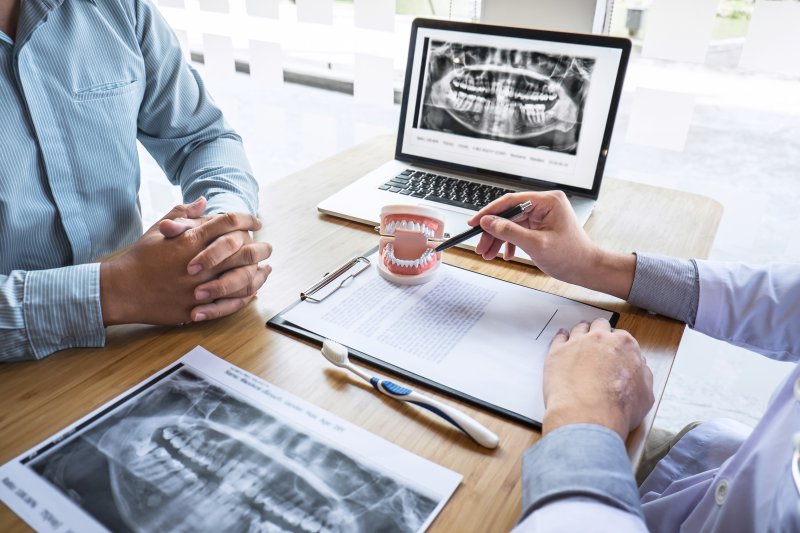 If you have missing teeth, you're probably researching your solutions to replace them. Dental implants are an excellent option to consider! It's one of the best methods for tooth replacement, giving patients a smile that looks, feels, and acts just like their old one. However, it's a major treatment that requires surgery – so the decision to get them should not be made lightly. At your dental implant consultation, ask your dentist these questions to make sure it's the right choice for you.
Am I a Good Candidate for Dental Implants?
Although there are several solutions for missing teeth, dental implants are the most permanent ones. They look, feel, and behave just like real teeth, making them highly convenient. But because implants are surgically inserted into the jawbone, they're not a viable option for some patients. They require healthy teeth and gums – and not all people have that. Your implant dentist will evaluate your oral health and ask about your lifestyle habits to determine whether you're eligible for treatment.
How Much Experience Do You Have with Dental Implants?
When it comes to any type of dental work, you always want to make sure you're receiving quality care. Therefore, don't be afraid to ask your implant dentist about their experience! A good dentist will be more than happy to share their training, skills, and qualifications. Make sure their experience includes being a board-certified periodontist or an oral surgery professional.
What Does the Dental Implant Process Look Like?
It's important to understand what the dental implant process will look like. Some dentists will perform the entire procedure in-house, including placing the implant and attaching the crown. However, others will refer you to an oral surgeon and only attach the crown. Be cautious of anyone offering same-day implants or bargain prices – these often lead to repeat or more costly procedures down the line.
How Long Will the Process Take?
Once you know what the process will look like, ask how long it will take to complete. Generally, the answer depends on how many implants you're having placed. The more teeth that need replacing, the more visits you will need to make. After dental implant placement, you will need to wait a few months for the metal implant and jawbone to fuse together (osseointegration). When you're ready, you will return to the clinic so your dentist can attach the final restoration.
What Is the Recovery Like?
At your dental implant consultation, you should ask your dentist how you can prepare for recovery. They'll provide you with aftercare instructions and tips to help make the healing process a breeze. Since there is a delay between dental implant placement and the final attachment, most patients receive a temporary denture in the meantime.
By asking your dentist these questions at your dental implant consultation, you can end your visit being well-informed and feeling confident that it's the best decision for your smile!
About the Author
With decades of experience, Dr. Peter Pate can provide state-of-the-art dental services that are guaranteed to exceed even your highest expectations. He completed his education at the University of Tennessee School of Dentistry. Since graduating, Dr. Pate has attended numerous hours of continuing education every year to give patients the best treatment possible. If you have missing teeth, he can restore your smile and confidence with dental implants. Visit our website or call (404) 266-9424 to schedule a dental implant consultation with Dr. Pate.