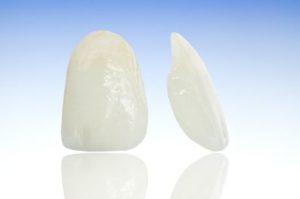 When it comes to what patients want from cosmetic dentistry, the phrase, "Kill two birds with one stone," comes to mind. The idea that just one procedure can correct multiple cosmetic issues at the same time is really appealing to most people. If that same procedure also lasts and looks great for many years, that's even better!
If you haven't guessed already, porcelain veneers in Buckhead is one procedure that does it all. Veneers not only provide you with an outstanding cosmetic result, they also resist staining and repair damaged enamel as well. Keep reading to find out more!
What Kinds of Issues Can Porcelain Veneers Fix?
Porcelain veneers are wafer-thin coverings that are adhered to the front of the teeth. They're matched in shape and color to the rest of the teeth so that they look and feel very natural. You can think of veneers the way you think of the siding on a house. No matter what's underneath, the siding completely transforms the way the house looks!
Here are some of the specific issues that porcelain veneers are perfect for:
Damaged enamel, chips and cracks – Whether you were born with enamel imperfections, have a history of cavities on your front teeth or have chips you'd like to hide, veneers can give your teeth a brand new appearance.
Staining – Veneers are the best way to completely mask certain types of staining that are so severe that they can't be corrected with whitening treatments.
Small or misshapen teeth – Some people are born with teeth that are smaller in size or shaped differently from the rest. Porcelain veneers can make these teeth blend in seamlessly with the rest of the smile.
Gaps or minor crowding – If you have gaps or minor crowding issues, you may have thought the only solution was getting braces. Thankfully, veneers can be strategically placed to correct these issues.
Porcelain veneers are incredibly strong and also stain-resistant. With basic care and maintenance, you can expect them to look great for many years.
What Can You Expect From the Procedure?
In today's busy world, convenience is always a big plus! One advantage of veneers is that they can be done in just two appointments.
During the first appointment with a cosmetic dentist in Buckhead, a small amount of enamel will be removed to make room for the veneer. Impressions will be taken and sent to the dental lab so the veneers can be custom-made. Then you'll return 1-2 weeks later for the veneers to be permanently cemented into place.
Regardless of what type of smile you start out with, porcelain veneers can help you achieve the smile you've always wanted!
About the Author
With over 35 years of experience, Dr. Peter Pate has used porcelain veneers to transform the smiles of countless patients. He loves being able to offer patients one option that can correct multiple cosmetic issues. If you have any questions, he can be reached via his website or at (404) 266-9424.