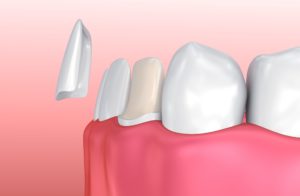 Are you ready to get the smile of your dreams with porcelain veneers in Buckhead? You will invest in your self-esteem with a solution that is minimally invasive while producing drastic results. Veneers are very versatile, so they can correct several issues at once. Whether you want to improve the appearance of one tooth or several teeth, they may be the answer for you. Depending on how many teeth you are treating, the price of your new smile varies.

What are Porcelain Veneers?
A veneer is a very thin shell bonded to the front surface of a tooth to cover its imperfections. They can be used to correct several issues, like tooth discoloration, chips, cracks, abnormally shaped teeth, and minor alignment concerns. Overall, they improve the tooth's size, shape, color, and proportion.
Although there are several different veneers available, most people have come to prefer those that are made of porcelain. This allows them to be thinner, so less of your tooth's structure is removed during the bonding process. As a result, the treatment is minimally invasive because more of your tooth is kept intact.
Porcelain also closely mimics enamel to give your new smile a natural appearance. It will also be stain-resistant to keep your teeth white.
How Much Do Veneers Cost?
Porcelain veneers cost more than those made of other materials, but they tend to last longer. This allows them to be more cost-effective long-term. There is no set price tag for the procedure because the amount is based on your individual treatment plan; however, you can expect to pay $925 to $2,500 per tooth. During your initial consultation, your dentist will give you an estimate and discuss your payment options.
When determining how much you can expect to pay, there are several factors that must be considered, such as:
The fees of the cosmetic dentist.
The qualifications and experience of the dentist.
Location of the dental office.
Materials that are used.
Number of teeth being treated.
Most dental insurances will not cover the cost of the treatment because it is considered to be cosmetic, but there are some instances where it may pay for a portion if the veneers also improve the health of your teeth.
To keep your new smile affordable, your cosmetic dentist in Buckhead provides several payment options, including CareCredit. You are given the funds you need based on your credit's approval. You then repay the amount using a payment plan that accommodates your budget.
Invest in Your Smile
If you are tired of hiding behind imperfect teeth, porcelain veneers can help. You will invest in your self-esteem to enjoy life to its fullest.
About Dr. Peter A. Pate
Dr. Peter A. Pate graduated from the University of Tennessee School of Dentistry. Through continuing his education and training, he provides many specialty services to his patients, including cosmetic dentistry. He will help you achieve a healthy, beautiful smile using individualized solutions. If you are interested in porcelain veneers, contact our office today to schedule your consultation.