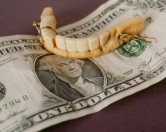 At the University of Maryland, there's a museum that everyone can relate to.  It's the National Museum of Dentistry.  It's affiliated with the Smithsonian Institution.
Everyone brushes, right? So, it just makes sense that every human should want to visit this amazing museum!
Actually, the website is pretty awesome, and the interactive exhibits are fun for kids and adults. For instance, one lets you become a forensic investigator. And we've always heard about George Washington's dentures. You can actually see them at the National Museum of Dentistry.  You might also like the Evel Knievel toothbrush or Queen Victoria's dental instruments. Another cool collection, the world's largest of its kind, is the museum's dental advertising poster art.  If you like the future more than the past, you'll enjoy the Operatory of the Future exhibit.
Visit http://www.dental.umaryland.edu/museum/ for more information, and if you DO go to the museum, send us pictures to post on Facebook!