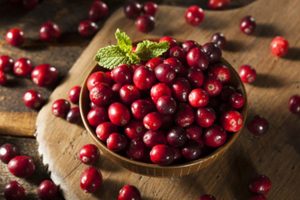 It's hard to not be excited about Thanksgiving, especially if you're a fan of food! But amidst all of the delicious dishes and foods that are often enjoyed around this time of year, there's one item that you should definitely consider adding to your plate: cranberries! These awesome little berries don't just add tons of flavor to your meal, but they can also benefit your smile! Keep reading to learn more from your dentist in Atlanta.
Can Cranberries Really Benefit My Smile?
Believe it or not, cranberries can greatly benefit your smile! Your mouth naturally contains bacteria, and if left unchecked, it can actually spread and form dental plaque that leads to serious issues such as cavities, gum disease, and more. Proper oral hygiene is the best way to keep these bacteria under control; however, other things such as your diet can also play an integral role!
Cranberries, whether in dried fruit, juices, jams, or sauces, contain proanthocyanidins (PACs)—a chemical compound that protects your gums from harmful enzymes and has anti-inflammatory properties. Cranberries can also protect your enamel from the destructive effects of sugar. In fact, consuming cranberries can actually lower the amount of plaque in your mouth by up to 95%!
The Many Health Benefits of Cranberries
Cranberries don't just benefit your smile; they also benefit your overall health! Here are just a few of the awesome benefits they have to offer:
They contain fibers that can assist with digestion and even relieve constipation.
They promote healthy cholesterol levels, which lowers your risk of heart disease.
They improve urinary tract health.
Cranberries provide nutritional support and help your body to absorb nutrients more efficiently.
They're a great source of vitamin C, which benefits your body in several ways!
Given the numerous advantages they can offer your teeth, gums, and the rest of your body, cranberries can greatly improve your quality of life. And cranberries are also completely safe, meaning that children can reap their benefits as well! Just be mindful of the added sugar that's sometimes included in cranberry-based products. It's also worth mentioning that cranberries can still potentially stain your teeth and are also slightly acidic, so if you can, be sure to brush your teeth half an hour after eating them!
This holiday season, be sure to leave a little room on your plate for cranberries! Not only are they a tasty addition to any meal, but they also have many awesome benefits to offer you and your pearly whites!
About the Author
Dr. Peter A. Pate has proudly served patients and families in the Atlanta area for several years. Dr. Pate received his DDS from the University of Tennessee School of Dentistry and is a member of many professional organizations including the American Dental Association and the prestigious Academy of General Dentistry. If you have any questions about the article or would like to arrange a visit, you can contact the practice online or over the phone for assistance: (404) 266-9424.