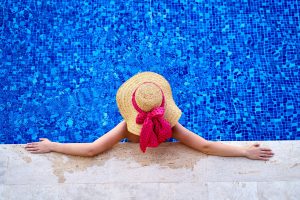 Diving into a pool is a great way to stay fit or cool off on a hot day, but is swimming bad for your teeth? Chlorine is added to swimming pools to kill germs and waterborne diseases. Although it can help protect you from harmful pathogens, prolonged exposure to chlorinated water can leave a lasting mark on your smile. Whether you're an avid swimmer or only take a dip occasionally, here's how you can protect your smile.
Dental Risks of Swimming Pools
Chlorinated hot tubs and swimming pools can have pH levels high enough to erode your enamel. Although your enamel is the hardest substance in your body, it can't regenerate. Once you've lost it, it is gone for good. Swimming in water with high pH levels can wear away at your tooth's defense system, increasing your risk of sensitivity, cavities, and discoloration.
Tooth discoloration is a common complaint for swimmers who spend at least 6 hours a week in chemically treated water. Chlorine can leave deposits on your teeth, causing them to turn brown or yellow.
Chlorine isn't the only treat to your smile. Swimming pools cause many people to end up in dental chairs every year. Slipping on a wet deck or bumping your mouth on a pool ledge can cause chips, breaks, and knocked-out teeth. The last thing you expect is a dental emergency to interpret your plans.
Protect Your Smile While Swimming
You don't have to give up your favorite pastime to protect your teeth. Here are a few tips to safeguard your dental health without having to avoid swimming pools:
Check pH Levels: Check the pH level of your home swimming pool at least once per week. If you use a public pool, look at the ladder and any metal areas for any signs of erosion.
Rinse Your Mouth: Rinse your mouth with water after swimming to remove any chlorine from your teeth,
Practice Pool Safety: Avoid a dental emergency by following pool rules, like walking on wet surfaces and not diving into shallow water. If you take part in watersports, wear an athletic mouthguard.
Increase Fluoride: Fluoride is a naturally occurring substance that can strengthen your enamel. It is added to many public water systems to combat tooth decay. Besides drinking more tap water, choose dental products containing fluoride. Your dentist can also perform a fluoride treatment to keep your enamel strong.
Visit Your Dentist: Schedule a cleaning and checkup twice a year to detect enamel erosion early.
Whether for recreation or exercise, you can enjoy more time in the water without worrying about risking your pearly whites.
About Dr. Peter A. Pate
Dr. Pate earned his dental degree from the University of Tennessee School of Dentistry and has continued his education in advanced services. He combines his training and experience with the latest innovations in dentistry. If you have concerns about the effects swimming is having on your smile, contact our office today to request your consultation.