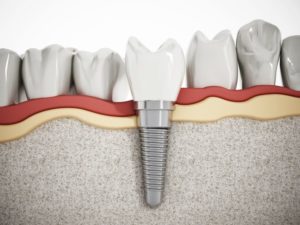 If you have missing teeth to replace, you'll probably have some questions. How painful is it to get dental implants? How long will it take? What will recovery be like? Your dentist in Buckhead is here to answer any questions you have so that you can feel confident when the time comes to rebuild your smile. Here's what you need to know about the dental implant process.
What is the Dental Implant Process Like?
First, your dentist will examine your mouth and discuss the various options with you before developing a plan for you. This plan might include procedures like gum disease treatment and bone grafting so that your mouth and jaw can safely receive the implants.
After that, it'll be time for the placement surgery. This is the point where the implant posts are placed in your jaw. (There are different types of dental implants; the number of posts you get depends on how many teeth need to be replaced and what kind of dental prosthetic they'll support.) It'll take a few months after this procedure for the implants and jawbone to grow together in a process called osseointegration; once the bonding is complete, a connector called an abutment is placed on top of the dental implant. Your new crown, bridge or dentures will be attached to the abutment.
Will Getting Dental Implants Hurt?
Everyone's experience will be different, but many patients report that dental implant surgery isn't as uncomfortable as they expected. A local anesthetic is usually used; you'll stay awake, but your mouth will be numbed (although you can ask your dentist about other kinds of sedation if you're nervous). If the tissues in your mouth are healthy, you should feel little to no pain during the surgery itself.
What is Recovery Like?
While you can expect some discomfort after dental implant placement, the pain is typically manageable. You might feel some pain in your chin, cheeks or under your eyes; other symptoms include bruising, pain at the implant site, and minor bleeding. Your dentist will usually recommend painkillers like ibuprofen, and an ice pack can help reduce any swelling. Also, you'll need to follow a diet of soft foods for up to two weeks after the surgery.
Typically, dental implant pain lasts for about 10 days; if it lasts much longer or becomes severe, you should call your dentist right away. Even after the discomfort is gone, it might be as long as six months before your mouth has healed enough to receive an abutment.
If you have any concerns about getting dental implants, make sure you voice any and all questions during the initial consultation. Make sure you have all the information you need to make an informed choice that will leave you with a dazzling, complete smile.
About the Author
Dr. Peter A. Pate has been practicing dentistry since his graduation in 1982 and has lived in Buckhead for more than 35 years. He's an active member of the Georgia Dental Association and is skilled in providing many state-of-the-art cosmetic and restorative treatments, including restorations supported by dental implants. To schedule an implant consultation at his practice, Dentistry in Buckhead, visit his website or call (404) 266-9424.