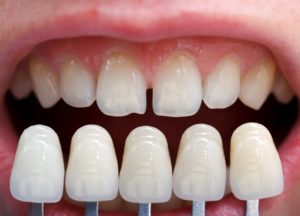 It's amazing how well veneers can cover up multiple imperfections in your smile without much difficulty. Getting a smile you'd typically see from actors in your favorite movies couldn't be easier! Of course, you'll still need to practice daily oral care if you want to make them last.
Today, your dentist wants to answer a question many patients ask him before and after treatment for veneers in Buckhead. That question is "How long will my veneers last before needing replacement?"
The Average Lifespan of Veneers
The lifespan of your veneers can vary depending on many factors. Patients who practice daily oral care and visit their dentist regularly will generally keep them longer than those who neglect oral care and routine visits. Patients who take the time to address their diet or remove stains promptly after consuming certain foods will continue to keep white teeth, even with porcelain's natural stain-resistant qualities.
On average, porcelain veneers can last between 10 and 15 years when following basic oral care habits every day. While porcelain is a strong material, it's only slightly more durable than natural tooth enamel. That means a bad fall or using your teeth irresponsibly can easily crack or scratch your veneers.
To avoid damage and make them last as long as possible, take note of the following tips.
How Do I Make Them Last Longer?
While veneers have never been considered a permanent solution for cracks, chips, and permanent discoloration, you can still make the most out of them by following a few key habits.
Always make sure to practice daily oral care. Sufficient care consists of brushing twice a day with a fluoridated toothpaste and occasionally a whitening toothpaste to remove surface stains. It also includes flossing daily to remove plaque and staining food particles from the sides of teeth. You'll also need to visit your dentist every six months to ensure they're adhering properly and not becoming stained.
Avoid using tobacco products which easily stain veneers.
You'll need to wear oral protection when the situation calls for it. When playing contact sports, be sure to wear a mouthguard. High impacts can damage veneers just as easily as natural teeth, so consider purchasing a custom mouthguard for optimal protection.
Do not use your teeth as a tool under any circumstances. Veneers are not designed to handle tasks that are better suited for a tool or pair of scissors. Using them as a tool can easily cause scratches, making them much more prone to staining.
Finally, you'll need to address chronic teeth-grinding if it appears. Your cosmetic dentist in Buckhead can help identify the early signs of teeth grinding and prescribe a custom nightguard to protect your veneers while you sleep.
Looking for more tips to make your veneers last? Schedule a consultation with your dentist to get the most out of your cosmetic treatment!
About the Author
Dr. Peter A. Pate earned his DDS degree from the University of Tennessee School of Dentistry. After pursuing continuing education, he's now more than capable of providing patients state-of-the-art cosmetic and restorative treatments, including porcelain veneers! To learn more about the process for veneers or about his practice, contact him through his website.