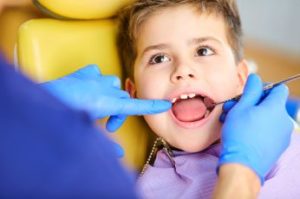 Choosing the right dentist is the first step in making sure your loved ones' smiles stay happy and healthy, and it's common to assume that you need to see separate dentists that specialize in certain types of care. But there are actually several perks to seeing a family dentist in Buckhead to take care of everyone's needs. With a friendly, comprehensive approach, you can bet that the littlest member of your family all the way up to your grandparents will get great care in a comfortable environment. Learn more below about the top 3 benefits of family dentistry!
1. You'll Get Multiple Services In Just One Place
Oral health needs change quite a bit throughout life. Whether your child just got their first tooth or you need treatment for your TMJ, seeing a family dentist means you won't have to drive all over town for appointments or coordinate between different offices.
Here are some of the comprehensive services to look for in a family dentist:
Checkups and cleanings, with an oral cancer screening at each visit
Children's dentistry such as sealants, fluoride treatments, and sportsguards
Gum disease treatment (also called periodontal therapy)
Cosmetic procedures like porcelain veneers, teeth whitening and metal-free restorations
Orthodontic treatment such as ClearCorrect clear braces
Sedation dentistry for fearful patients
Extractions and emergency care
Fillings and root canals
Crowns, bridges and dentures
Dental implants
Sleep apnea and TMJ therapy
2. You'll Get Emergency Care From Someone You Trust
When you're a parent, you know how unpredictable life can be. In the event of a dental emergency, you'll have the comfort of working with a dentist that you know and trust. Since a family dentist already knows each member of your family's history, you won't have to "start from the beginning" when you or a loved one is in pain and needs immediate care.
3. You Won't Have To Sacrifice Quality For Convenience
A family dentist not only offers high-quality, comprehensive care, but they'll be happy to work with your schedule and accommodate your needs. For example, it's not uncommon to arrange multiple appointments at one time (or back-to-back), so that disruptions to school and work are kept to a minimum.
Caring for your family's oral health shouldn't be a hassle. By seeing a family dentist, everyone will get the care they need to have a healthy smile for life.
About the Author
Dr. Peter Pate has nearly 40 years of experience as a family dentist in Buckhead. In that time, he's built long-term relationships with patients of all ages and has even seen some of them grow into adults and have children of their own. If you'd like to know more about how to find a family dentist or have any questions, he can be reached via his website.