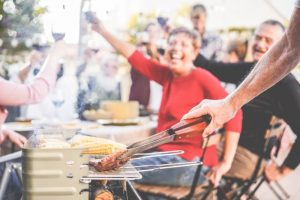 If you're like most folks, summertime is all about enjoying yourself and gorging on the most satisfying seasonal foods at backyard barbecues with friends and family. Even though you have a sturdy and strong set of dental implant restorations, it's still important to be mindful of what you eat and how you eat it. Read on to learn about three summer foods to eat with caution and how you can protect your dental implants during each of your seasonal outings.
Hot Dogs
There's nothing more nostalgic than a hot dog roasted over a fire pit in your back yard or on a grill. It's a quintessential summertime delight. Unfortunately, if you have dental implants, it could mean bad news for your smile. While eating one or two hot dogs at an outing won't compromise your oral health, you should still be cautious of eating too many of them over the next coming months due to their levels of processed saturated fat. This can lead to inflamed gums, which isn't good for your implants.
Corn on the Cob
Roasted corn on the cob is a classic Southern, summertime staple that you'll probably see at countless cookouts in Georgia. Whether you have an all-natural smile or one enhanced by dental implants, being weary of this savory delight for the sake of your oral health is always a good move. Kernels can become stuck between your teeth and the hard crunch of biting down on the cob could put you at risk for an oral mishap. Instead, try cutting it off the cob and eating it with a fork to reduce your risk of needing a visit to your emergency dentist.
Sugary, Refreshing Drinks
Sports drinks, lemonade, and other refreshing summer drinks are bound to be on the menu at your summer barbecues this year. There's nothing wrong with enjoying them every once in awhile, but be sure to substitute water between these sugary drinks every now and then to reduce bacteria accumulation in your mouth and rinse away food debris.
Protecting Your Dental Implants This Summer
The best way to keep your dental implants healthy and in great shape this summer is to protect them if you grind your teeth at night, schedule your bi-annual checkup and cleaning with your dentist, and stick to a thorough oral hygiene routine of brushing and flossing. By taking these steps towards maintaining your grin, you'll be able to get the most out of your investment in dental implants and continue enjoying your smile for years to come.
About the Author
Dr. Peter Pate has decades of experience under his belt as a dentist, allowing him to calmly and confidently help patients find the best possible solutions to their oral issues, whether it's a toothache or missing teeth. He enjoys treating patients of all ages and dedicates his free time to continuing his education. For questions or to learn more about how you can maintain your dental implants properly, visit his website or call 404-266-9424.