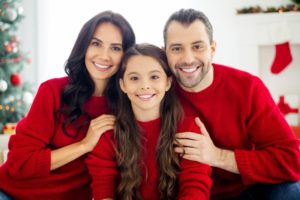 The holidays are a great time for family, friends, great food, and making wonderful memories. It's also a time for overindulging in some tasty treats that can wreak havoc on your teeth and gums. With so many sweet, starchy, crunchy, and chewy goodies, your smile can go from healthy and beautiful to decayed and dull fairly quick. To prevent this from happening to you, hear from a dentist in Buckhead who shares 5 ways to protect your smile this holiday season.
Brush and Floss After Every Meal
Typically, it is recommended that you brush your teeth twice a day for two minutes and floss at least once a day. However, with all the foods and beverages you are consuming throughout the holidays, it is strongly advised that you brush and floss after every meal. This keeps excess sugar off your teeth and prevents cavities from forming. If you can't brush, make sure you carry a small travel-sized bottle of mouthwash around with you. This will help flush out any harmful bacteria and food particles, leaving you with a healthy, refreshing smile.
Let the Nutcracker Do the Work
Do you like pecans, walnuts, or other nuts encased in hard shells? Don't use your teeth to crack them open. Your teeth are meant to only tear into food and nothing else. If your mom or grandma has a nutcracker sitting around, let it do the work! They're not just for decoration. They're actually meant to crack open nuts, so have some fun watching it work so you can enjoy the special treat inside.
Stay Away from Hard Candies
It's likely your grandmother has a bowl of hard candies sitting around her house; however, it is best if you simply pass the bowl and forgo any of these sugary treats. The reason is that they can chip or crack a tooth, causing you to leave your family and friends and seek immediate dental help. No one wants to spend the holidays getting a broken tooth fixed or undergoing a root canal, so protect your teeth from harm by saying "no" to hard candy.
Be Mindful of Your Beverages
Candy, cookies, cakes, and pies aren't the only sugar-filled items available. Soda, coffee, tea, and wine can also pack a lot of sugar. You may not even realize it until you read the label, but these drinks can stain teeth, causing cavities to form, and the acidity can eat away at your tooth enamel, causing sensitivity, discoloration, and more. Instead of the beverages listed above, opt for water, as it will keep you hydrated and encourage saliva production to help with the removal of bacteria.
Maintain Your Regular Routine
Just because you're encouraged to brush and floss after every meal doesn't mean you should forgo your regular morning and nighttime routine. When you wake up and before you go to bed, make sure you're brushing your teeth for two minutes with fluoride toothpaste. You'll also want to floss and use an ADA-approved mouthwash to rinse away anything left behind that brushing and flossing missed.
Don't let your holidays be ruined by cavities or gum disease. Protect your pearly whites from decay and damage by keeping these 5 tips in mind while spending time with family and friends.
About the Author
Dr. Peter Pate graduated from the University of Tennessee School of Dentistry in 1982. Enlisting in the U.S. Army, he served as a dentist at The Pentagon and the Walter Reed Army Hospital. Since opening his own practice, Dr. Pate is pleased to serve the residents of Atlanta and its surrounding communities. Offering a wide range of services, he and his team will happily take care of you and your family's oral health, no matter the age. From preventive care to emergency dentistry and even sleep apnea therapy, you can trust Dr. Pate to take care of all your dental needs. To learn more, contact us at (404) 266-9424.