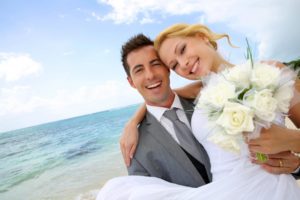 Wedding season is upon us! If your big day is coming up quickly, we extend our heartfelt congratulations. Of course, even if you're not getting married, the chances are good that you've been invited to at least one wedding this year. Regardless of if you're a regular guest, part of the bridal party, or the bride or groom, you're going to want to look your best when the photographer starts taking snapshots. Your cosmetic dentist in Buckhead offers several services that can enable you to smile with confidence.
Teeth Whitening
If you wake up every morning with a delicious cup of coffee and wind down in the evening with a glass of red wine, your habits are going to show on your teeth. Over time, the enamel gradually becomes stained and loses its luster. Instead of relying on OTC bleaching products, we recommend professional teeth whitening in Buckhead.
Your cosmetic dentist has several whitening options available. They're all safe, effective, and fast ways to vanquish stains — in fact, your teeth could become up to 10 shades brighter!
Dental Bonding
Do you have discolored, cracked, chipped, or disproportionate teeth? Dental bonding may be able to disguise those flaws and restore your smile's natural gorgeousness. During this procedure, the dentist molds a composite resin over the tooth and then hardens the resin with a special light. The result is that you end up with a natural-looking, head-turning smile. Dental bonding is one of the most affordable cosmetic dentistry treatments, and it usually takes just one appointment to finish the procedure.
Porcelain Veneers
Veneers are custom-made, ultra-thin pieces of porcelain that your dentist attaches to the fronts of your teeth. They are able to address many of the same problems as dental bonding, but they offer even more advantages. Bonding can last for about five to seven years, whereas veneers often endure for much longer than that — up to 15 years or longer. They're also more resistant to stains than bonding.
This treatment is a fantastic option for folks with good oral hygiene habits who want a permanent solution to their smile's imperfections.
ClearCorrect
Are you holding back from getting braces because you don't want to be a "metal mouth" in the wedding photos? ClearCorrect might be perfect for you. Just like traditional orthodontics, ClearCorrect applies gentle pressure to teeth to reposition them over time. However, instead of using brackets and wires, this remarkable treatment uses a series of clear aligners. They're extremely discreet, and since the aligners are removable, you can always remove them for a few minutes while you're taking wedding selfies with your besties.
It takes a lot of preparation to attend a wedding. You have to find the perfect outfit, purchase a gift for the bride and groom, make travel arrangements, and more. In all of the busyness, though, please don't forget to get your smile ready for the big day!
About the Dentist
Dr. Peter Pate, your cosmetic dentist in Buckhead, loves to help his patients love their smiles! If you are interested in getting your pearly whites prepared for wedding season, please contact our office at 404-266-9424 to schedule a consultation.