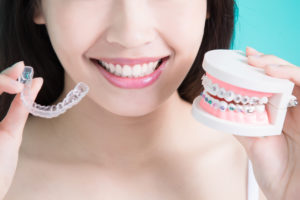 Clear braces in Buckhead, also known as "clear aligners," might be the solution you're looking for if you suffer from underbite, overbite, or misaligned teeth. Clear braces offer most of the advantages of traditional approaches without the attendant inconvenience and occasional discomfort. They enable the wearer to enjoy their customary diet and to remove the aligners for daily activities such as sleeping.
A Clear Advantage Over Other Solutions
Braces in one form or another have existed since around 400 BC. Early attempts used thread and similar materials to correct misaligned teeth. Development of braces began in earnest in the 1700s, when technology enabled the creation of corrective plates crafted from iron or other metals.
Dental science took giant leaps forward in the 20th century, as materials such as aluminum became commonly available. Today, braces help millions of people to enjoy a better life. Still, the process of fitting and installing traditional braces is sometimes challenging. The patient must brush and floss with care, avoid certain foods, and, in many cases, use elastic bands or head gear to obtain the best results.
The introduction of dental ceramics helped to correct many of the aesthetic issues associated with wearing braces. Still, traditional designs have their limitations.  For example, only a dentist can install, adjust, or remove them. Clear Correct aligners avoid these problems while offering benefits like these:
Virtual invisibility. In many cases, observers never notice the appliance at all. This can help the patient to enjoy greater self-confidence and freedom form social awkwardness.
No need for time-consuming maintenance. Clear braces require only daily cleanings to function at their best.
Ease of adjustment. The wearer only needs to replace their existing aligners on an occasional basis, as directed by their dentist, until the underlying issue is corrected.
Are Clear Braces the Right Solution in Your Case?
Clear braces could be the option you need if you suffer from any of the following conditions:
Crowded or compacted teeth.
Excessive spacing between teeth.
Misaligned or "rotated" teeth.
Underbite or overbite.
The dentist will examine your mouth and forward the results to a dental lab, which will fabricate the braces to match your profile. Depending on your diagnosis, you may need from 12 to 32 sets of clear braces during the course of treatment, which normally lasts from 1 to 2 years. You must commit to wearing the appliances in accord with your dentist's directions.
Clear braces offer the best results in adults with mild to moderate dental conditions. They're less effective if the patients suffers from serious issues such as gum disease, extensive tooth decay, missing teeth, jaw injuries, bone erosion, or severe examples of under or overbite. Those whose teeth are still developing are usually better served by other options, such as ceramic braces.
Only a dental professional can tell you if clear braces are right for you. We recommend making an appointment with a cosmetic dentist in Buckhead to discuss your options. You may walk away with a happy smile on your face.
About the Author
Dr. Peter Pate is a graduate of the University of Tennessee School of Dentistry. He served in the US military's Dentist Corps for many years before setting up private practice. You can reach his office online or by calling (404) 266-9424.