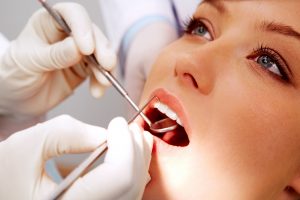 Believe it or not, 2021 is already here. As you pack up your holiday decorations, your life is about to get busy as you resume your daily responsibilities. Although your schedule might be a little more hectic, take the time to visit your dentist for a dental cleaning. While it may not seem like a priority, there are 5 benefits of visiting your dentist early in the year.
1. Your dental benefits have been reinstated.
At the end of the calendar year, your dental insurance policy expires. Thankfully, your benefits are reinstated in January after paying your monthly premiums. Your monthly investment gives you access to discounted rates for the services your smile needs to stay healthy. Although every policy differs, most plans include:
100% preventive coverage
80% minor restorative coverage
50% major restorative coverage
2. Prevent common oral health issues.
Your toothbrush and floss are your first line of defense against common oral health issues, like tooth decay and gum disease. Unfortunately, no matter how well you brush and floss, there are still areas in your mouth where plaque and tartar can accumulate. Your dentist will get rid of the buildup with a thorough cleaning to ensure you don't experience complications down the road.
3. Lower your overall oral health expenses.
Everyone is looking for ways to save money. Visiting your dentist regularly is a great way to lower your oral health expenses. Research shows every $1 spent on prevention can save as much as $50 on restorative services. Your dentist will clean your teeth to prevent cavities and gum disease to lessen the need for a costly treatment during the year ahead.
4. Improve your general health.
Your mouth is often referred to as the gateway to your body because your oral health is linked to your general health. Certain dental issues, like gum disease, can increase your risk of health concerns, such as heart disease, diabetic complications, and respiratory infections. A dental cleaning removes tartar that can lead to the infection. By doing so, you'll start the new year with a healthy smile to support your general wellness.
5. Freshen your breath.
Everyone experiences bad breath occasionally, but if it's a reoccurring problem, it can indicate an underlying dental issue, like an accumulation of bacteria. Your dentist can freshen your breath by removing odor-harboring tartar and perform a dental checkup to look for any other concerns that might be causing the smell, like tooth decay.
Promote a Healthy Smile in 2021
Although you have all year to visit your dentist, commit to scheduling an appointment early. You'll head into 2021 with the healthy, beautiful smile you deserve to look and feel your best.
About Dr. Peter A. Pate
Dr. Pate earned his dental degree from the University of Tennessee School of Dentistry. He regularly continues his education to provide the latest treatments and techniques in dentistry, like veneers and dental implants. He has the qualifications and training you need to reach your oral health goals. Contact our office today to schedule your next preventive appointment.