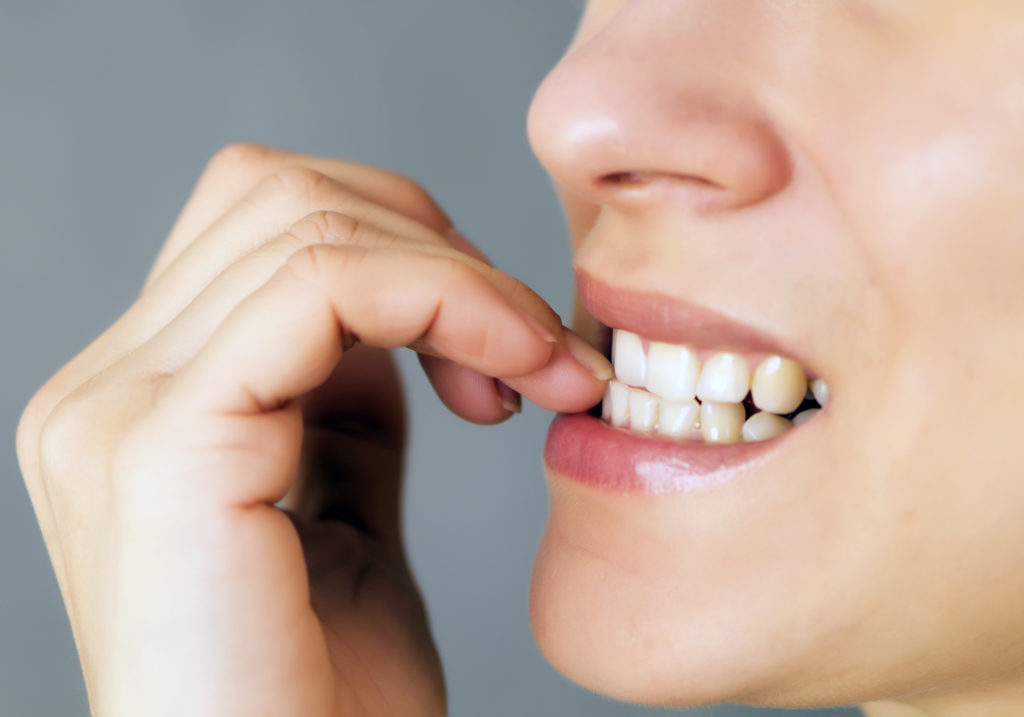 You only have 30 minutes left. Despite your best efforts, you find yourself running late due to standstill traffic on the freeway. As the minutes tick away, you realize you've been mindlessly biting your nails for the better part of an hour. "What's the harm?" you think to yourself, "Nothing bad has ever happened before." Just as the thought enters your head, you feel a surge of pain and notice a deep crack in your tooth.
Biting your nails is one of many behaviors that can harm your teeth. To keep your teeth strong and avoid an emergency dentist visit, watch out for these five bad dental habits.
Smoking
Decades of research have shown the detrimental effects smoking has on your health. However, more recent studies have revealed impressive statistics about the link between smoking and gum disease. In fact, the Centers for Disease Control and Prevention reported that people who smoke run twice the risk of being diagnosed with gum disease compared to their non-smoking counterparts. In addition, smoking inhibits your body's ability to fight infection and hinders your gums from healing properly. Each of these consequences could lead to an emergency visit to the dentist, which can be stressful in a pandemic.
Biting Your Nails
Experts estimate that about 30% of the population engages in nail-biting when faced with a stressful situation. Initially this habit may seem harmless, but it can actually lead to cracks, chips, and serious wear on your teeth. While it can be difficult to quit such a deep-rooted habit, try chewing gum the next time you are feeling anxious to help you avoid a painful toothache from a damaged tooth.
Grinding Your Teeth
This habit can be difficult to correct, as many people aren't aware that they do it at all. However, if you are experiencing jaw pain and headaches, combined with noticeable wear on your teeth, then you may be grinding your teeth in your sleep. To avoid these unpleasant side effects, as well as the risk of a sudden cracked tooth, speak with your dentist about using a mouthguard at night.
Using Your Teeth to Open Things
When a bottle or package is being particularly stubborn, it isn't unusual for people to try using their teeth. Since they are strong, sharp, and deliver an immense amount of pressure, it often does the trick. Nevertheless, this bad habit can lead to chipped, cracked teeth and a multitude of other dental emergencies. To avoid that headache, and a potentially expensive bill, opt for the bottle opener or scissors instead.
Too Much Snacking on Sugar
Sugar is deliciously sweet, but oh so dangerous for your healthy, white smile. Much like smoking, frequently consuming sugary foods and drinks can increase your risk of tooth decay and severely damage your strong enamel. Over time, prolonged exposure to sugar will turn your teeth from pearly white to a deep yellow color. From there, the acid erodes the enamel and leaves you vulnerable to cavities and toothaches. Therefore, reserving the sugary treats for special occasions can help you avoid an unexpected visit to the dentist.
About the Author
With a degree from the University of Tennessee School of Dentistry and nearly four decades of experience under his belt, Dr. Pate provides personalized general dentistry to the people of Atlanta. Between his extensive knowledge, helpful staff, and enthusiasm for taking care of his patients, even emergency visits can be a stress-free experience. For more information on what to do in a dental emergency and how to schedule a same-day visit, check out their website or give them a call at 404-266-9424.