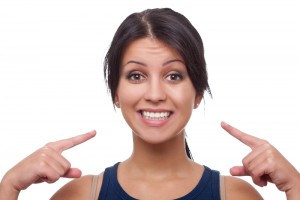 Clear braces in Buckhead are a great way to improve your oral health. Modern transparent aligners are convenient and low-profile. For many patients, they can provide all the benefits of orthodontic treatment without the drawbacks of traditional metal designs.
Why Transparent Is the Clear Choice
Braces are the most effective form of treatment by far for many oral health problems. But many people would rather do almost anything than wear  traditional metal braces. Here's why:
Appearance concerns. Let's face it, metal braces will make you stand out from the crowd. This factor is of special concern to adult patients who fear being lumped in with adolescents. After all, most people in our society think of alignment therapy as a "kid" thing. Whether this perception is fair or not, it's still a source of worry.
Upkeep. Only a dentist can remove traditional metal braces. Wearing a set requires the patient to exercise special care when eating, brushing and performing other daily activities. This can make brushing and flossing quite a challenge.
Benefits vs. costs. While traditional braces are effective, for many people, they're orthodontic overkill. This is especially true when options such as clear braces can accomplish the same goal while asking less of the patient.
Clear Braces Are the Adult Choice
The good news is that most adults have a better option when it comes to alignment therapy. Clear braces can correct most mild to moderate cases of tooth or jaw misalignment. Here's how they work:
The treatment process begins with a visit to a cosmetic dentist in Buckhead. He or she will perform a complete examination and create detailed digital images of the patient's teeth and gums.
This information is sent to a lab which creates the actual aligners. Upon receipt, the patient wears each pair for a week or so. He or she is able to remove the appliance up to two hours a day for eating and brushing.
Once the course of treatment is complete, the patient need only use a nighttime retainer to ensure the benefits of alignment therapy continue for the long-term.
Advantages of Clear Braces
Clear braces are compatible with an adult lifestyle. For example, many professionals spend much of their career-related time traveling. Fortunately, clear braces are lightweight, durable and easy to pack. The patient can even take multiple sets with him or her just in case one set is lost or damaged. Plus, transparent braces are low-profile, which can be an advantage in social and professional situations.
Transparent braces are easy to care for. The patient should clean them daily using a soft-bristled toothbrush and a small amount of non-abrasive antimicrobial soap.
The type of braces your dentist  recommends will depend on many factors.  For example, clear aligners are less suited to people whose teeth are still maturing. For this reason, most children and adolescents are better off with traditional braces. In some cases, the dentist may use a metal set at first and allow the patient to switch to clear aligners to complete the course of treatment.
Clear braces are a great option to consider. Make an appointment with your cosmetic dentist in Buckhead soon to discuss this convenient and effective form of treatment.
About the Author
Dr. Peter Pate earned his DDS degree from the University of TN in 1982. He spent many years as a dentist in the US Army before setting up his Buckhead practice. You can reach his office online or by calling (404) 266-9424.