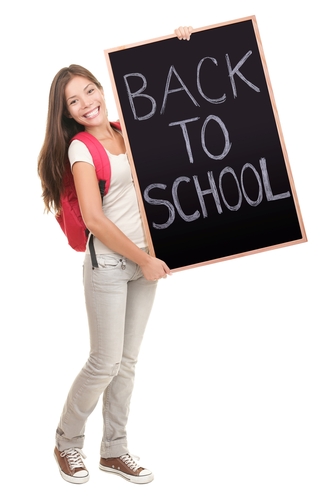 It's that time again! Kids everywhere are trying to deal with the pain of summer's end and the excitement of seeing all their friends again at school. Parents across the nation are clearing the school supply shelves at Wal-Mart.
School is about to begin.
If your child needed vaccinations or an athletic physical, you probably made a trip to the family doctor's office. But let me ask you, did you get to the dentist?
Firemen recommend that you change the batteries in your smoke detectors when daylight savings time starts and finishes each year. This habit ensures fresh batteries twice a year—and could save lives.
I recommend, if your kids aren't already on a six-month dental checkup rotation that works for your family, you consider aligning dental checkups with school starting. If you get your kiddos on this schedule, they'll visit the dentist in July/August and February/March (after the hectic holidays, but before spring break).
Even if your children get A++ at every dental checkup, they need to come in twice a year. Checkups allow me to look at their tooth and jaw development, as well as the health of their teeth and gums. Finding and treating tooth decay and gum disease in the earliest stage is usually a conservative procedure. Furthermore, we can apply sealants and dental fluoride supplements to ward off tooth decay in children under 14 years of age.
I'm Dr. Peter Pate, a father and a dentist (who loves kids). I want your kiddos to enjoy healthy mouths, beautiful smiles, and high quality of life now and as adults. Call my Buckhead Atlanta office today to schedule back-to-school checkups for those adorable smiles that are close to your heart.