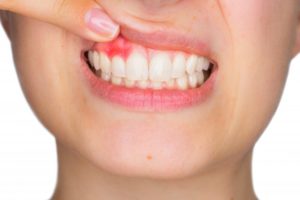 If gum disease were restricted to your mouth, then that would be trouble enough. However, dentists, doctors and scientists now know that there is a link between the condition of your gums and the health of your heart. February is American Heart Health month, so it's a good time learn about this connection. Please keep reading for a discussion from a dentist in Buckhead.
Defining Heart Disease and Gum Disease
First, let's establish what each condition is. Heart disease is a set of symptoms that includes heart attack, arrhythmias, stroke and more. The leading cause of heart disease is blocked or narrowed blood vessels.
Gum or periodontal disease is a bacterial infection that leads to inflammation of gum tissue. Left untreated, gum disease advances, causing receding gums, bone loss and, at worst, missing teeth.
The Link Between Gum and Heart Disease
Over the past several years, research that confirms the link between these two diseases has been conducted. For instance, a review article from the National Institutes of Health considered several studies and found that gum disease increases the risk of heart disease by about 20 percent.
Another study from 2014 followed people with both gum and heart disease. Participants receiving good dental care for their gum disease had heart care costs that were ten to 40 percent less than those not having good periodontal therapy.
Thus, there is research to back the notion that gum disease can lead to heart disease. Both the American Dental Association and the American Heart Association confirm that just as bacterial plaque begins to harden on teeth and gums, it can also do so in blood vessels. Consequently, there may be blockages or restricted arteries that could increase the risk of heart.
The Signs of Gum Disease
Want to avoid gum disease and the possibility of heart disease, as well? Then brush and floss your teeth daily to remove plaque and schedule regular dental checkups to have your gum health assessed.
In between visits with a dentist in Buckhead, be on the lookout for the following signs of gum disease:
Red and swollen gums that may also bleed
Bad breath or a foul taste in your mouth
Pus between your teeth
Gum recession that makes your teeth look longer
Shifting teeth or ill-fitting dentures
If you see any of these symptoms, don't wait for your next appointment. Call a dentist immediately. You may not only save your smile, but your life, too.
About Dr. Peter A. Pate
Dr. Peter A. Pate graduated from the University of Tennessee School of Dentistry. To treat gum disease, he offers periodontal treatment in Buckhead that includes antibiotic therapy. If you are concerned about your gums, contact our office today to schedule your consultation.